HP 800 Booster
Early weaned and light-weight piglets have some catching up to do. HP 800 Booster from HAMLET PROTEIN is a gentle soy-yeast supplement – developed for extra high quality piglet feed. Can be used especially to boost feed intake of challenged piglets for faster, naturally healthy growth.
Increasing litter sizes and the subsequent decline in average birth weights add to greater weaning weight variation which
increases the need for a quality feed ingredient that encourages feed intake and supports naturally healthy growth of the
smallest piglets. HP 800 Booster from HAMLET PROTEIN has been developed to meet this specific need.

Produced by co-processing soy and yeast, HP 800 Booster has shown good results when fed to nursery piglets. HP 800
Booster has been found a cost-efficient alternative to blood plasma during a feeding trial performed at Leuven University in
Belgium. By the end of the trial, the piglets fed HP 800 Booster were also more uniform in weight. Danish pig producers have
experienced similar results when using HP 800 Booster to replace fishmeal.

Another feeding trial performed at the University of Arkansas, USA has confirmed that the addition of HP 800 Booster to piglet feed already containing blood plasma improves feed intake. This results in lower costs compared to more complex nursery diets with fishmeal, higher levels of plasma and a higher lactose content
Product application
HP 800 Booster is an ingredient for extra high quality creep and prestarter feed for early weaned piglets.
Product features
Co-processed to contain 10% yeast (mannan-oligosaccharides / MOS and β-glucans)
Low content of anti-nutritional factors (trypsin inhibitors, antigens and flatulent oligosaccharides)
High nutrient digestibility
Product benefits
Stimulates feed intake
Improves weight uniformity
Feed cost savings
Improved FCR
Improved development of the gut microbiota
Trial at Leuven University, Belgium confirms similar performance and feed cost savings compared to blood plasma
Blood plasma and fishmeal are widely regarded as the best sources of protein for improving feed intake of weaned piglets.
But their high price is a major drawback. A feeding trial at Leuven University in Belgium put HP 800 Booster to the test as an
alternative to blood plasma.
The findings have revealed similar performance and up to 15% feed cost savings when HP 800 Booster is introduced to piglet diets. By the end of the trial, the piglets were also more uniform in weight.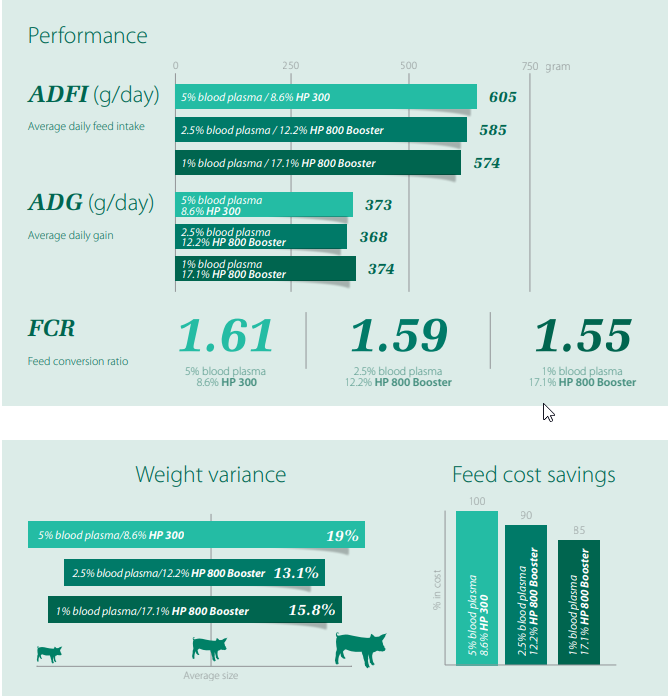 Starting at the age of 18 days, 160 weaned piglets received one of the following three diets for 22 days:

• Control – containing 5% blood plasma, 8.6% HP 300
• HP 800 Booster 1 – containing 2.5% blood plasma, 12.2% HP 800 Booster
• HP 800 Booster 2 – containing 1% blood plasma, 17.1% HP 800 Booster

They were then fed the same diet for 23 days.

Although feed intake was slightly lower with the HP 800 Booster diets than with the positive control containing 5% blood
plasma, little difference was recorded in average daily weight gain – evidence that HP 800 Booster has an improved feed
conversion ratio. Weight variance was reduced from 19% with the control to 13.1% and 15.8% with HP 800 Booster 1 and
HP 800 Booster 2 respectively
Trial at University of Arkansas Animal Science Research Farm, US confirms high feed intake and cost savings
HP 800 Booster increased feed intake and gave a long-lasting improvement in average daily weight gain in a study of 238
weaned piglets at the University of Arkansas Animal Science Research Farm in the US1).
Even when HP 800 Booster was no longer included in the diet, the study found that piglets fed the supplement at an earlier
stage continued to gain more in weight.

In the three-phase study, the university team demonstrated that feed intake increased with increasing doses of HP 800 Booster.
Diets were formulated with 20% HP 300 from HAMLET PROTEIN and then to compare that with diets containing increasing
amounts of HP 800 Booster. Piglets fed HP 800 Booster outperformed those fed both the positive and negative control diet2).
During the first and second phase, the majority of the soy bean meal in the negative control diet was replaced with 20% and
15% of HP 800 Booster and/or HP 300, respectively. All piglets were fed a common diet in phase three.
The results show that HP 800 Booster improved feed intake by 7% during the 37-day study compared to the negative control.
At the same time, piglets fed HP 800 Booster weighed 0.9kg more than those fed the moderately complex positive control
diet. Diets containing HP 300 also gave a better performance than the controls. Overall, the study revealed opportunities for
feed cost savings of 16-17% (Based on US prices 04/2013, weighted average phase one and two).

1) Journal of Animal Science., 2013, 91, E-Suppl. 2: TH 317: Effect of diet complexity and an enzyme-treated soy protein plus yeast on performance in weanling pigs.2) Positive control diet: Soy bean meal 48%, whey, plasma, fish meal. (The diet is primarily based on ingredients in bold).
Negative control diet: Soy bean meal 48%, whey, plasma. (The diet is primarily based on ingredients in bold)
HP 800 Booster has positive effect on feed intake and piglet performance
When including HP 800 Booster in the creep feed or weaning diet it can replace the following:
Spray dried porcine plasma, SDPP
Porcine solubles, DPS
Fish meal, FM
Milk proteins
Other animal proteins
High quality potato protein
High quality soy protein concentrate, SPC
Swine events
We attend events around the world. Meet us at exhibitions and seminars - we always look forward to welcoming you!
We also sponsor conferences with focus on young animal nutrition.
Have a look below where to meet us next.

Product benefits
Feed is the critical factor in animal production, accounting for up to 70% of total costs. Using HAMLET PROTEIN specialty soy proteins in young animal feed, you can optimize feed efficiency – and maximize your return on investment.

The key is their easy absorption by immature guts. Although added to feed for only a limited period in early life, our proteins have a strong carry-over effect on animal growth and performance. Feeding trials have documented a higher slaughter weight compared to animals fed standard soybean meal.

Our highly bioavailable proteins improve feed quality overall. That paves the way to reducing the total protein content – cutting the cost of your formulation.
Read more

See our other products
Our products are easy to incorporate in feed for 4-30 kg (8-60 lb) piglets. Take a closer look at our product range. Other than HP 800 Booster our portfolio also contains HP 300 and our latest product HP FiberStart.

Feed you brain
We often publish articles on young animal nutrition topics in international journals and magazines. Browse the Feed Your Brain article archive to read our own and other relevant articles from these publications.